Our caring and compassionate veterinary care team!
Meet the Veterinarians & Team of Jelsema Veterinary Clinic in Hudsonville! We're pleased to provide exceptional vet care for your pets!
Please call us at 616-662-6230 to speak to one of our caring veterinary staff members!
Terry Jelsema D.V.M.

Dr. Jelsema is a great example of someone who found their true calling in life! He established Jelsema Veterinary Clinic in 1998, a few years after earning his DVM degree from Michigan State University. As a vet, he creates such great relationships with clients, that many call him a friend first and a vet second. Through his innate ability to listen, he gets a thorough history and determines a plan that is best for everyone in the family. As an owner, Dr. Jelsema leads the team based on several very important core values. His example of leadership has created an honest, positive, hard working team that enjoys what they work hard to do everyday. At home, he and his wife Marlys have 7 children, Justin (who married Sam and has three sons), Jessica, Jacob, Julia, Joslynn, David, and Isabella.He has 3 fur children, Gracie, Eli, and Jax the cat. When he is not busy running the practice, he enjoys spending time with his family and participating as a member of the 501st Garrison as an honorary Stormtrooper.
Julie Eberly D.V.M.
Dr. Eberly has been a staff member at JVC for over 10 years! She graduated from West Ottawa and Albion College before attending MSU's College of Veterinary Medicine. She practiced large and small animal medicine for 13 years before becoming an exclusively small animal doctor. Dr. Julie has a wonderful bed-side-manner. She talks each pet through their physical exam while offering treats and rewarding their behavior. Even the most nervous patients seem to respond well to her reassurance. Dr. Julie's favorite part of practicing medicine is the pets and people she is able to work with every day. Her professional interest is small tissue surgery and performs dozens of surgeries per week with local rescue organizations. Dr. Julie enjoys spending time reading, gardening, and paddle boarding. She has two children, a son in high school and a daughter in college which she loves spending time with. Her fur children are Merida and Pippin, 6 year old Standard Poodles and Kricket, an 8 year old she bottle fed after finding abandoned as a kitten!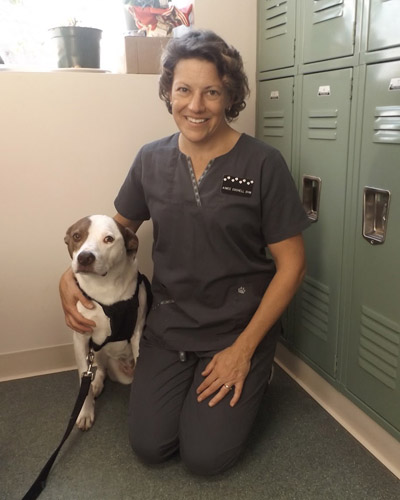 Aimee Cochell D.V.M.
We were lucky to welcome Dr. Cochell to our team in 2017. She pursued her dream of becoming a veterinarian on the beautiful island of St. Kitts at Ross University, and completed her DVM degree in 2001. Dr. Aimee has experience working as a zoo keeper, a relief vet (filling in at practices around the area), and as an instructor at a local university. Clients love her thorough, well thought out explanations and her promptness. She is extremely kind and caring with a true heart of gold! Dr. Cochell shows her care for the community every day and was the founder of Heartside Veterinary Friends, an organization that oversees the care of pets in indigent housing in downtown Grand Rapids. Outside of work, Dr. Cochell enjoys spending time with her husband Josh and her two little boys, Ben and Alex! They enjoy spending time in nature by running, camping, and backpacking. Her other interests include reading and playing violin and clarinet. The fur members of her family include Shiloh, the golden angel dog, Skippy, the feisty 3-legged feline, and Mirabella, their little black wondercat.
Stacie Shingledecker D.V.M.
We welcomed Dr. Shingledecker (we call her Dr. Stacie) to the JVC team in January 2018. She completed her undergrad at Central Michigan University before entering vet school at Michigan State University and graduating as a DVM. She is a member of the AVMA (American Veterinary Medical Association) and the WMVMA (West MI Veterinary Medical Association). Dr. Stacie's aptitude for veterinary medicine is apparent, especially when it is time to figure out what is wrong with a sick patient. She has logical mind and compassionate spirit which makes her an extremely effective communicator to clients. Dr. Stacie enjoys soft tissue surgeries and educating clients about preventative care. Dr. Stacie lives with her husband and adorable son along with Gizmo (cat), Asher (cat), Zoey (boxer mix), and Froggy (an aquatic frog). When she isn't working, Dr. Stacie enjoys reading, knitting, and exploring new places with her son.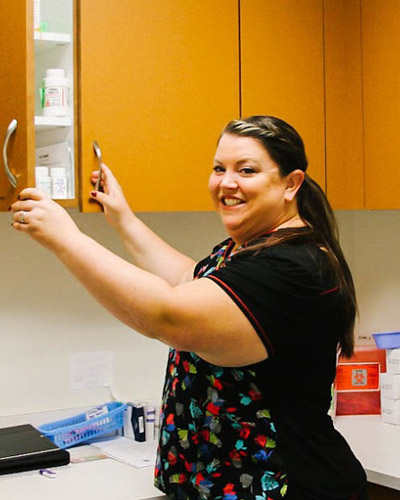 Erin, LVT
Erin has been with JVC since 2007 and is our Lead Technician. Erin graduated with honors from Baker College with her degree in Veterinary Technology in 2004. Erin is a wealth of knowledge, and enjoys working with and mentoring students that rotate through our clinic. Erin commutes all the way from Kent City, where she lives with her fiance Steve, their German Shepherd Montana, and two cats Pippen and Ray. Erin is heavily involved in the world of 4-H, and spends her summers showing and judging at goat shows around the country. She is a licensed pygmy goat judge, as well as a proud owner! When she isn't working, she enjoys outdoor activities like motorcycling, snowmobiling, boating, and horseback riding.
Sara, LVT
Sara has been a part of the JVC staff as a Licensed Technician since 2011. She earned her Associates of Applied Science degree from Baker College. Sara is incredibly hard working, and helps out in all areas of the clinic. Her kindness and genuine care for her job makes working with a joy, but her skill and determination help many sick pets feel well again. Sara has a few fur babies of her own- two pups named Diesel and Shelby, and two cats named Remi and Ella. When she isn't at work Sara enjoys spending time with her husband and 4 children, Holly, Levi, Maddie and Allison.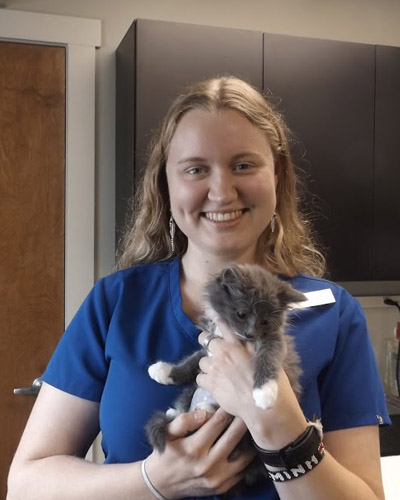 Wilhelmina (Mina), LVT
Mina is a Licensed Technician employed by JVC since 2017. She graduated from Baker College and after completing an internship at the Kansas City Zoo applied for a position with us! Mina enjoys meeting the young puppies and kittens and then watching them grow and mature. Her two pets are Kida, the dog and Bucky, the Beta fish. Her hobbies include crafts, gardening, reading, photographing nature and animals, and spending time with family and friends. Demeanor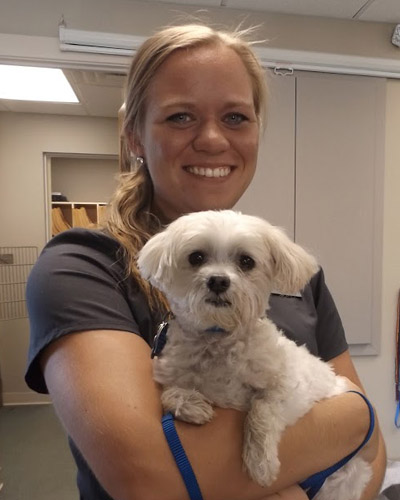 Elyssa, LVT
Elyssa is one of our Licensed Veterinary Technicians, She graduated from Baker College in 2017 and has been a member of the JVC staff ever since! Elyssa is a valued staff member who is very good at communicating with clients and making clients and patients feel welcome. Her favorite part of her job is meeting clients and their pets, the cute puppies and kittens, and the excitement of never knowing what to expect every day! When she isn't working Elyssa enjoys reading, playing the piano, going to the beach, playing volleyball, camping with her family, and cuddling her cat, Snickers.
Lydia, LVT
Lydia joined the team in 2017 after completing her degree from Baker and an internship with JVC. Lydia says the most rewarding part of being a technician is witnessing the positive impact that pets have on their owner's lives and the bond that forms between them. In her free time, Lydia enjoys hiking, swimming, kayaking, riding her horse, Lexi, and spending time with her friends.
Ann, Customer Service
Ann (we call her miss Ann) is our most experienced receptionist. She has worked in the vet industry for over 20 years, and started at JVC shortly after it opened. She keeps the front looking great with decorations and always has a basket of stickers for the kids. Miss Ann is originally from Ohio and creates all kinds of conflict with her OSU team pride! She loves talking to clients and relating to them and their pets on a personal level. On her days off Ann enjoys spending time with her husband, grandchildren and pets Charles (cat) and Gypsy (dog).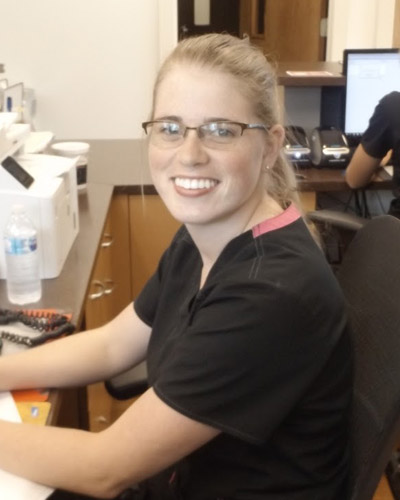 Katie, Customer Service
Katie is the smiling face you see at the front desk most days. She has several years experience working in vet clinics and she is excellent at client care and communication. Katie joined the team in 2018, and enjoys working with the great clients at JVC offering quality care for their pets. She has two kids of her own, and also two fur kids- Hudson, a Standard Poodle, and Nala, a kitty. In her free time, Katie likes golfing and spending time with her kids.